SOUTH VALLEY SYMPHONY  
The 2017-2018 Season ended on May 13th with a triumphant and inspiring finale which included music by Beethoven, Brahms, Wagner, Dvorak and Copland. Please see our concerts page for next Season's dates, venues and repertoire. The new Season entitled  "A Symphony For All Seasons" will open on Saturday, October 13, 2018 at 7:30 pm in Gavilan College Theater Gilroy.
During June, South Valley Symphony is pleased to sponsor a couple of events you will enjoy.
June 3, 2018: STRIKE UP THE BAND!

with the Pacific Brass Band
Guglielmo Winery | Gates open at 3:00 pm, Concert starts at 4:00 pm.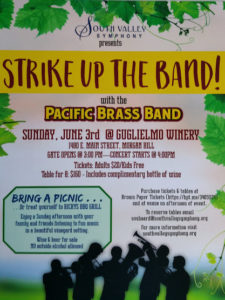 Pacific Brass Band plays in the style of the British Brass Bands that often play in the park on an English summer Sunday afternoon. Bring your own picnic or purchase BBQ from Ricky's Grill. Enjoy Gugiliemo's tasty wines and relax listening to some great sounds as the band plays many long-time favorites, and some new ones! For more information, download the Pacific Brass Band Flyer

Tickets are $20 for adults and kids/students are free.  Invite your family and friends, buy a table for 8 and receive a free bottle of wine. Tickets may be purchased at BookSmart, Morgan Hill; BrownPaperTickets.com and at the venue starting at 3:00 pm.
Buy tickets for STRIKE UP THE BAND! 
---
June 10, 2018: South Valley Youth Orchestra DEBUT CONCERT
Joey Fortino, Music Director & Conductor
7:00 – 9:00 pm
Gilroy Presbyterian Church, 6000 Miller Avenue, Gilroy
Tickets will be sold at the door, $10 adults, $5 students or contact svyouthorch@gmail.com

поиск по сайту googleAlliance Options reviewавтомобильный держатель для телефонакурс доллара евро к гривнекредит онлайн новосибирскбанки в перми кредиткак получить кредит без прописки