SOUTH VALLEY SYMPHONY Concert Series: 2016 – 2017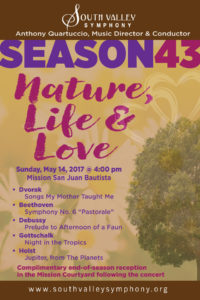 SUNDAY, MAY 14, 2017  at 4:00 pm
Mission San Juan Bautista
Nature, Life & Love will bring you romantic and delightful music perfect for celebrating Mother's Day.  Please join us for this grand finale concert of our 43rd Season.
Purchase Tickets NOW – this concert is very popular. Tickets are also sold at the Mission Church door on day of performance one hour prior to the performance.
After the concert everyone is invited to attend a Wine & Cheese Reception in the Mission Rose Garden. Come mingle with our talented musicians and other music lovers and enjoy Spring in the Old Mission San Juan Bautista.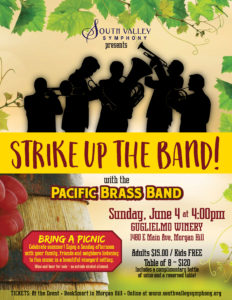 SUNDAY, JUNE 4, 2017 @ 4:00pm
Guglielmo Winery
1480 E. Main Ave
Morgan Hill, CA
Back by popular demand, the Pacific Brass Band  will STRIKE UP THE BAND! at Guglielmo Winery in Morgan Hill.
Celebrate summer  –  bring a picnic* to share with your family and friends in the delightful setting of the Guglielmo vineyards.
Individual Adult Tickets are $15.00
Tables for 8 are $120.00 and include a free bottle of wine. You can reserve and purchase your table on-line or email svsboard@southvalleysymphony.org to reserve and pay at the event.
Children and students are FREE – no ticket required.
Click here to Purchase tickets online now.
Tickets are available at BookSmart in Morgan Hill (You cannot reserve or purchase a table through BookSmart)
Tickets will sold at the event starting at 3:00pm on June 4.
*Please note that you may bring your own food and soft drinks but NO OUTSIDE ALCOHOL is allowed. All wine must be purchased at Guglielmo.

поиск по сайту googleAlliance Options reviewавтомобильный держатель для телефонакурс доллара евро к гривнекредит онлайн новосибирскбанки в перми кредиткак получить кредит без прописки