SOUTH VALLEY SYMPHONY
42nd Season  •  2015 – 2016
Pictures at an Exhibition
South Valley Symphony's 42nd Season will hold its grand finale concert  on Mother's Day, Sunday, May 8 at 4:00 pm at Mission San Juan Bautista with a wine reception to follow the concert.
Postcards from the Americas  continues the Season theme of Pictures at an Exhibition with the orchestra performing repertoire by Canadian, Argentinian, Mexican and American composers. Concertmaster Beverly Blount will be featured performing Piazzola's Oblivion for Solo Violin and Orchestra, and SVS Principal Trumpet, Jeff Chambers, will switch from trumpet to Native American flute and perform his own composition entitled Thunder and Moonlight.
Celebrating a uniquely American genre, the Zinfandel Stompers, under the leadership of Jim O'Briant, will conclude the concert with traditional jazz, blues and other familiar favorites.
Tickets are still available for purchase prior to performance. Tickets are $40 which includes the Wine Reception after the concert. Children and Students are free.
MUSIC UNDER THE MARQUEE – June 5, 2016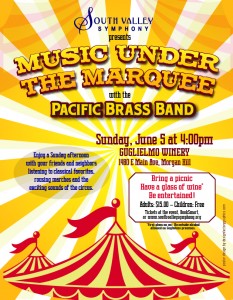 South Valley Symphony will sponsor the Pacific Brass Band under the direction of Jim O'Briant, in an afternoon of fun music at Guglielmo Winery on Sunday, June 5 at 4pm. Tickets are $15.00 for adults; children and students are free. Buy online through Paypal, visit BookSmart in Morgan Hill or get your tickets at the event on the day of the performance or on site online roulette.
Bring a picnic or snacks; enjoy a glass of Guglielmo wine. Water will also be available. Please note that NO outside alcohol is allowed on Guglielmo premises. More information about the concert will be posted here shortly.